Apps are at their best when they're work fast and handle secondary jobs. In the area of web design, there are a lot of apps that attempt to take on the big jobs that are best left to a full-sized computer. Drawing, image manipulation, and file organizing apps seem to be the most common. On top of that, they have a lot of buttons, sliders, and other controls that make them cumbersome on a small platform like an iPhone or iPad. Since these types of apps are the ones that get a lot of attention, it's easy to miss some really useful web design-related apps that have recently been released. Here are ten that are easy to use and perform those spur-of-the-moment tasks when a laptop or desktop isn't available or necessary.
1. Marksta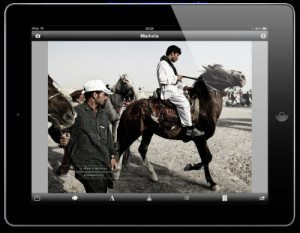 It's hard to get the proper credit or financial reward from one of your creations if anybody can just copy it and use it. You need to put your brand on it. That's where this app comes in. The Marksta app by John D. McHugh let's you download images to an iPhone or iPad and tag them while your workstation tends to bigger chores. The app can place a watermark, logo, or text on or over each image. It also let's you add messages and metadata that allows users to give credit where it belongs. The app sells for around $1.99 US.
2. What the Font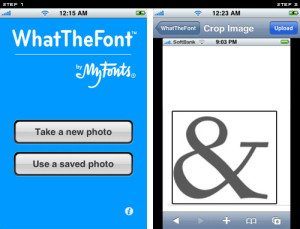 This app takes great advantage of an iPhone's mobility. You come across a poster in a window that has just the text style you're looking for. Take a snapshot of it and let What the Font go to work. This app will find the name of the particular font, along with vital information about it. It can also identify fonts with a close resemblance to it. Another nice thing about this app is it's free.
3. Air Display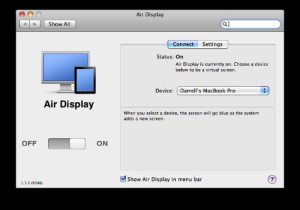 Imagine you're working on a project and need a full screen just for an image. All the controls and pull-down menus get in the way. It would be nice, on these occasions, if you could expand the size of the screen to hold the control panels. The Air Display app by Avatron lets you turn an iPhone or iPad screen into that addition space. This app sells for $9.99 US and lets you rotate the iPad in whichever direction allows the best view. Along with providing a separate spot for menus or consoles, it also provides mirroring of a main computer's screen.
4. Ruler Phone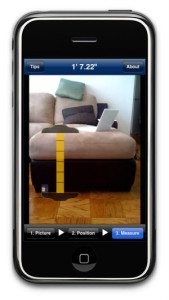 When arranging scenery or objects for a photo, it's often useful to take measurements. Instead of lugging along a tape measure for this work, use the Ruler Phone app instead. All that's needed is a credit card or object with the same dimensions. Just place the card next to whatever you want measured and take a picture. The app can calculate that object's size by comparing it to the known measurements of the card. This app was created by Ben Kamens and goes for $3.99 US.
5. Gusto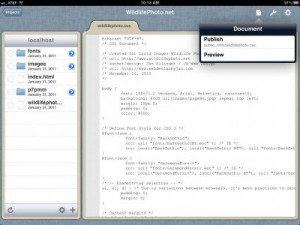 Sometimes there need to be quick changes made to a website's code. If a laptop isn't available, it's still possible to make the alterations with the Gusto app on an iPhone or iPad. This app by Garden Bay Software goes for about $9.99 US and can perform text editing and source code editing. It provides syntax highlighting for nearly all the more common languages like C++, Java, Javascript, HTML, Python, and more. It also makes it easy to locate the right web page to edit by displaying images to choose from.
6. MyPrice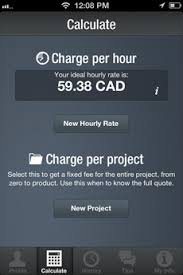 However you learned about setting a price for designing a website, the formulas involved aren't exactly precise. There's always room for a little more help in figuring out what to charge. The MyPrice app can come in handy for this. This free app by MD Interaktiv inputs information about the client, your own qualifications, and the different components, like illustrations or javascript applets, of the website or other project to calculate what rate to charge. It also supplies examples of routine projects and what they cost.
7. Blux Camera Pro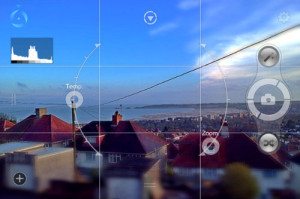 Because of its limitations, it's often necessary to run iPhone pictures through an image editor to adjust things like sharpness, brightness, contrast, or saturation. It would be a great time saver if those things could be adjusted before taking the shot. The Blux Camera Pro app by Xin Xue does that for $2.99 US. Along with this capability, it also can figure the optimal filters to use by analyzing location and weather conditions.
8. PHP Cheat Sheet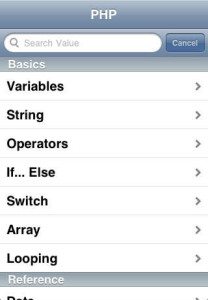 One of the most common languages for creating websites is PHP. Even after using the language for countless websites, it's still possible to get stuck on the syntax for a function or variable. The PHP Cheat Sheet by Concentric Sky is a $0.99 app that provides all the features of PHP. You can type the code on your laptop while using your iPhone as a one-touch reference guide.
Get PHP Cheat Sheet here
9. Ego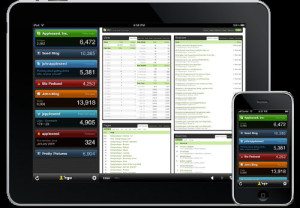 You don't have to slow down the PC in the middle of a rendering job to check on information like the number of visitor to a given website. Using Ego on an iPhone provides detailed stats on internet pages, Twitter followers, Facebook page likes, among others. This $2.99 US app by Garrett Murray also lets you log onto any of these sites just by tapping their icon.
10. Night Mode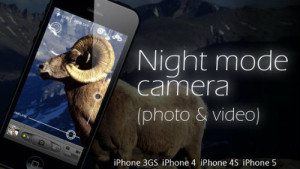 Photography after dark is usually something you'd use expensive camera equipment for. With the Night Mode app on an iPhone, its built-in camera can capture nighttime images without a flash. This app works by increasing the exposure time by up to one second. This lets extra light in to produce pictures without the graininess created by image manipulation software. It allows you to set the exposure time and displays it on-screen. ISO is also displayed. This app runs for $1.99 US.
Get Night Mode here