Top 10 Online Web Design Degree Programs
Getting started in web design early is crucial to a successful career. Most students in web technology and digital design try to find programs that they can complete quickly to get in on the job market. It's expected that web developers will enjoy 30,000 new jobs by 2020 according to the US Bureau of Labor Statistics, but this number is ever-increasing as many new positions are being created for this job field that involve marketing, graphic design, mobile app development and other fields of study. Students who want to do well in this field have to find the top 10 online web design degree programs and gain higher earning potential.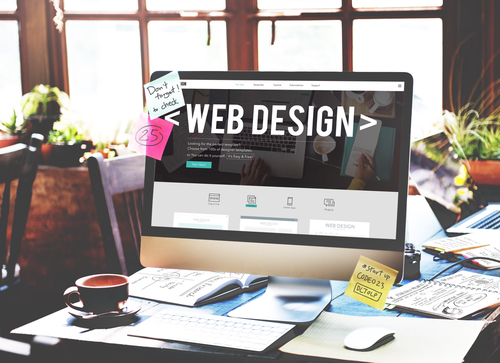 Featured Accredited Schools
This web design degree ranking was based on information found by researching each design college, checking figures on US News & World Report and looking at the US Department of Education Database of Accredited Post-Secondary Institutions and Programs. These programs were ranked for (equally) rigorous online curriculum, accreditation, magnificent teachers, interactive teaching modules, fast graduation completion, career placement, student services, convenience of online education portal, tuition costs and financial aid programs.
Methodology:
Academic Prestige (1/3): the academic prestige of a program, as calculated by the program being featured in other prominent rankings.
Flexibility-granting elements (1/3): the number of flexibility-granting components, including fast program completion, number of concentrations, and so forth.
Affordability (1/3): the affordability of a program, as measured by out-of-state tuition per credit hour rates.
1. The State University of New York-Delhi(SUNY)
The SUNY College of Technology in Delhi has been offering bachelor's degree programs in web development since 2008. While there is a web design program, most of the online programs focus on today's modern web technology and site creation tools as well as programming. Front end development, JavaScript, PHP development and mobile development are all topics taught at Delhi. All online classes are recorded and saved online, which allows students to access lecture material whenever they want. With a rolling deadline, students can apply at any time to join an online program. US News & World Report also rated SUNY at number one on their online bachelor's programs list. With a low price per credit for in-state and out-of-state students, it's also a great program for anyone living in the US or abroad. SUNY offers a few online programs in web development including computer science, website development and management, computer information systems: web design and programming and information technology. In addition, SUNY partners with 12 community colleges around the state to make professors and lectures more accessible. Students can choose to take classes fully online or opt for hybrid programs. Financial aid available from federal loans, private loans, scholarships, fellowships and grants. Accredited by Middle States Association of Colleges and Schools. School offers two-year and four-year programs. Tuition is $35,545 with books.
2. The Art Institute of Pittsburgh
The programs at The Art Institute of Pittsburgh are more creative and focus on graphic design as much as web development. Online degrees allow students to pick and choose their web design courses while also being able to specialize in graphic design or programming. Founded in 1921, The Art Institute of Pittsburgh has one of the highest career placement rates for students. Individualized instruction is offered for students so that they can review any lecture when they have time. Mobile apps for online students are also provided as well as a unique web portal where students can access all of their assignments, previous work, discussions, videos, materials and other topics posted by students. Financial aid is available including federal loans, federal grants, private loans and an institutional finance plan. Accredited by the Middle States Association of Colleges and Schools
School offers a three-year program. Tuition is $84,600 with books.
3. ITT Technical Institute
ITT is one of the more nationally known online schools in the US. The school has 140 locations in 35 states and has designed an incredible online learning portals for students that was recently updated. ITT has always offered a variety of degree programs including web development and technology. Students can take hybrid and strictly online courses through ITT as well. With schedule planning, students are also able to plan their courses in order to get the best schedule as interviews, lectures and other videos are pre-recorded and then added to the database. The only drawback is that the program is for an associate degree in web design. Financial aid is available including scholarships, federal loans, private loans, federal grants and private fellowships.
Veterans educational benefits are also available through ITT. Program is a little under two years at 21 months. Tuition is $38,340.
3. Sanford Brown College
Sanford Brown College has various programs in web development for students who wish to become web designers and developers. The entire program is online. Sanford Brown has been providing students with incredible online and distance programs for over 30 years. Their course offerings are diverse, and they have a highly noteworthy staff of software engineers, front end developers, programmers, system administrators, coders and other noteworthy teachers. While there are schools located across the US, the individual schools aren't as big as they need to support hybrid classes. Private and federal student loans are available. The school provides some scholarships to exceptional students. This school also accepts veterans benefits assistance. Accredited by the Commission for Independent Education. Bachelor's and associate's programs are available. Total cost for bachelor's degree is $63,000. The associate degree program costs $32,200.
4. Westwood College
If you're looking for a do-it-all kind of web design, development and marketing program, Westwood College has students covered. The courses are designed to promote both the creative side of design like digital photography and multimedia development to server-scripting, SEO and online marketing. Students also get into a fast track program that directs them into web marketing, graphic design, web design, animation or a combination of these bachelor's degrees. Students can earn bachelor's degree in graphic design and web design. They must take 180 credit hours. Tuition is $64,978 total for four years. Financial aid is available for those who qualify including scholarships, grants, fellowships, private loans and federal loans. One-on-one classroom instruction is available from qualified instructors.
5. Full Sail University
Full sail is a cutting edge university known for its design, film, music, animation, programming and digital media degrees. Their bachelor's degree for web design and development offers a fully online program that teaches students both front end and back-end development. Students also learn about mobile app technology. Due to the wealth of courses available at Full Sail Online, students can take all kinds of extracurricular courses to specialize their web design careers as well. Bachelor's degree is a four-year program with 124 credit hours. Tuition costs $57,040 including books, manuals, media, materials and technology fees. Financial aid is available for students in need. Scholarships, loans, federal loans and grants are available.
6. Virginia College
Students can take media arts and web design through Virginia College's online programs. The degrees allow students to work on projects in animation, computer design, web development and design, drafting and game design. Students work closely with professors in one-on-one projects, which is designed to give them career training. Career placement is also provided to students. A career placement program allows students to transition easily into a web development field. School is accredited by Accrediting Council for Independent Colleges and Schools (ACICS). Bachelor's degree is a four-year program. Tuition costs $58,500 including books.
7. American Intercontinental University
Students go into the marketing and development side of web design at American Intercontinental University. Students can apply for the information technology and development bachelor's degree program. Professors work with students online through an advanced web portal that offers video lectures, discussion groups, online assignments and testing. Students who want to further their education can also go into the master's program in web development online at AIU. Application of $50 is necessary for admissions. Bachelor's degree program requires four years of study with 169 credit hours. Tuition costs $74,500.
8. DeVry University
One of the oldest online universities is known as DeVry university. Internationally recognized, students can earn an associate's or bachelor's degree in digital media and design. Students learn a combination of graphics, web design and animation. DeVry also expands the program into multimedia, programming and marketing. DeVry graduates are linked to careers in advertising, online marketing, web development and computer design. It's also ranked in the top 100 for best online bachelor's programs according to US News & World Report. Associate's degree quires 67 credit hours; bachelor's degree requires 134. Financial aid is available including scholarships and private loans.
Tuition for associate's degree is $39,305. Bachelor's degree costs $68,000. DeVry is accredited by The Higher Learning Commission of North Central Association of Colleges and Schools.
9. Rasmussen College
Another historic college with online programs for web design is Rasmussen College. This secondary institution has been offering higher education for over 100 years. The school is focused on offering digital design, animation and game design courses with a successful career placement program that offers an internship to students. Each student can take fully online courses or enjoy a hybrid program to get through more rigorous courses. Programming courses are also available for those who want to do both front end and back-end development. With its career track program, students are able to work closely with employers. The college has a high job placement success rate. Rasmussen offers financial aid such as scholarships, and the school accepts federal loans, private loans, federal grants and fellowships. There are 22 campus around the US. Rasmussen has an 85 percent graduation and job placement success rate. Total credit hours needed to complete program is 93 for a total tuition of $32,550.
10. Kaplan University
Kaplan is known around the world for its online programs. Web design and development, digital media, animation and online marketing can all be included in a student's web design program. There are over 180 degrees available online for students to consider, which makes it easy to add extracurricular courses in marketing, programming, computer engineering and business. Classes are fully online, which gives students the ability to work on assignments and meet their day-to-day obligations when they're not studying. Kaplan University is in the top 60 online bachelor's degree programs list according to US NEws & World Report. Both undergraduate and graduate programs are available to web design majors. Financial aid is available for those who qualify. Scholarships, private loans, federal loans, grants and fellowships are accepted. Their web design program is a four-year degree for bachelor's with a total tuition of $54,900.