The Evolution of Mobile Gaming

Share this infographic on your site!
The Evolution of Mobile Gaming
Featured Programs
With the average smartphone user spending nearly an hour a day playing games on their phone, it's little wonder why the mobile game industry is massive and growing and why mobile game developers are in increasing demand. But mobile games weren't always so slick and immersive; let's take a look at the history of mobile games.
Tetris
Launched: 1994
Gameplay: Manipulate shapes and try to create straight lines across the screen
Snake
Launched: 1997
Gameplay: Steer a "snake" (really, a line of blocks) without hitting the wall or having the line cross itself
It's estimated that more than 350 million mobile phones have the game.
Snake II
Launched: 2000
Gameplay: Expanded upon original by adding some obstacles and mazes
Lifestyler
Launched: 2001
Gameplay: Simple life simulator
2002: First commercial phones using Java technology, enabling faster gameplay
Space Invaders
Launched: 2002
Gameplay: Almost seamless conversion from iconic arcade game
JAMDAT Bowling
Launched: 2002
Gameplay: A simple bowling game; most noteworthy because of the technology it used (BREW)
2003: Phones with color screens become widely popular.
N-Gage
Launched: 2003
Gameplay: Intended as a rival to Game Boy systems, the device offered good gaming but poor phone capabilities
Bejeweled
Launched: 2003
Gameplay: Match colors to clear spaces, place bombs to disrupt your opponent
Asphalt Urban GT
Launched: 2004
Gameplay: Topdown racer
The Fast and the Furious
Launched: 2004
Gameplay: Topdown racer
Tower Bloxx
Launched: 2005
Gameplay: Stack blocks to create towers
Downtown Texas Hold 'Em
Launched: 2005
Gameplay: Poker game
Doom RPG
Launched: 2005
Gameplay: First-person shooter with some role-playing game elements
2007: Apple introduces the iPhone, a touchscreen smartphone; later that year, Apple introduces the iPod Touch, which allows for data access over WiFi networks.
Tap Tap Revenge
Launched: 2008
Gameplay: Tap areas on the screen in rhythm to the beat; most-downloaded free iPhone game in 2008
2008: Apple launches its App Store. Within a few days, 10 million apps had been downloaded by users around the world.
2009: Touchscreen smartphones become more common, as Samsung introduces the first Galaxy model on the Android platform, challenging Apple's iPhone, which was introduced a couple of years earlier.
Doodle Jump
Launched: 2009
Gameplay: Guide your character up a series of platforms without falling
Angry Birds
Launched: 2009
Gameplay: Launch a bird from a slingshot to kill pigs
1.7 billion+
Total Angry Birds series downloads
Words With Friends
Launched: 2009
Gameplay: A Scrabble clone, the game was famously addictive, even helping lead to actor Alec Baldwin being removed from a flight for refusing to turn off his phone
Interestingly enough, Words With Friends has spawned three real-life board games.
Candy Crush Saga
Launched: 2012
Gameplay: Puzzle matching game; game has been downloaded more than 500 million times
1 billion
Games played per day
Ingress
Launched: 2012
Gameplay: Real-time augmented reality game for Android
2014: In-app purchase revenue expected to be close to $8 billion and climbing fast; game items include 99 cents for a new life in Candy Crush to $600 for the Apathy Bear in Gun Bros.
What will be the next major step in the evolution of mobile gaming? And who will be the innovator to come up with it?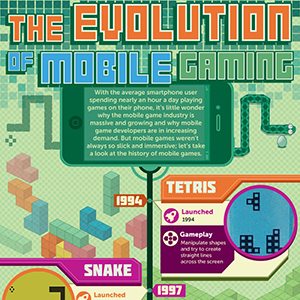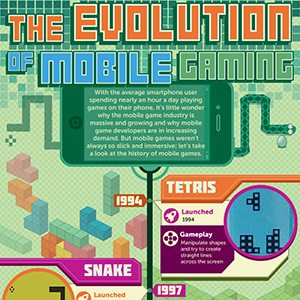 Sources:
http://www.slideshare.net
http://www.apple.com
http://www.ign.com
http://www.idsoftware.com
http://techcrunch.com
http://www.gamesradar.com
http://www.theesa.com
http://www.modojo.com
http://www.pocketgamer.biz
http://www.techhive.com
http://www.dexigner.com
http://www.theguardian.com
http://mashable.com