The 10 Best Online Bachelors in Video Game Design Degree Programs
The video game industry is booming. In 2016, the industry was valued at $17.7 billion. Today that number is up to $18.4. Overall, Americans are spending over $30 billion each year on games, a growing percentage of which is moving to mobile, following larger trends in the digital space. Of course, all this is great news for aspiring game design and development professionals. Multimedia artists and animators are expected to add over 60,000 new jobs through 2024, and software developer employment is predicted to grow 17%, significantly above the average rate, adding over 1.1 million jobs with a 6-figure median salary.
While some of the more technical skills required in game design can be developed outside the classroom (and often are), students are still flocking to schools across the country to earn degrees. In part, this is because employers still value evidence of formal training, relieving them of on-the-job training that's expensive and time-consuming. But students also understand that the gaming industry is not just about fancy programming and sleek design. Every game needs a story, too, which is why many programs require course work in visual storytelling, character development, and other areas. The major advantage of a BS/BA/BFA in Game Design is a broad-based curriculum that balances these areas of focus —— technical demands alongside big-picture factors —— the kinds of things that make video games worth playing in the first place.
Featured Programs
Below we've compiled the best online tracks available, taking into consideration affordability, flexibility, and overall quality.
1) Southern New Hampshire University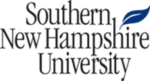 Founded in 1932, SNHU has since become one of the worldwide leaders in distance education, with over 70,000 students taking online classes. Ranking #1 in the nation for US News, all 200+ degrees are career-focused and designed for maximum flexibility to accommodate working professionals and adult learners. Faculty are accomplished experts in their field with years of experience in online education, and the 15:1 student-to-faculty ratio promotes individualized instruction in a collaborative setting. Over half of SNHU classes consist of fewer than 20 students. For students interested in financial aid opportunities, 70% receive some form of financial aid.
SNHU offers a BS in Information Technologies with a concentration in Game Design & Development, combining tech fundamentals and creative course work. Core requirements include classes like App Development, Web Design, Project Management in IT, Cybersecurity and Information Assurance, and capstones in IS Design and Implementation. Concentration studies focus on Interactive Animation, IT and Digital Games, Design of Virtual Game Environments, and Digital Game Development. Courses deliver in accelerated 8-week blocks, and students have access to material 24/7. Other services include personalized academic advising, a writing center, career services, 24/7 tech support, and e-library services. For those with previous undergraduate credits, up to 90 credits can be transferred into the program, waiving general education requirements.
2) Academy of Art University

Academy of Art University, founded in 1929, is one of the largest private art and design schools in the country, with a total enrollment of 13,800, the majority of which are undergraduate students. Throughout its history, AAU has hired established and practicing art and design professionals to develop an art university that balances creative competencies and real-world application. The 15:1 student-to-faculty keeps classes small and intimate, promoting individualized instruction. Nearly 90% of classes have less than 20 students. Financial aid opportunities are available, as well: over 40% of students receive some form of tuition assistance. The university is accredited by the National Association of Schools of Art and Design.
AAU's School of Game Development offers a BFA tracks in Game Development and BS in Game Programming, each focusing on game design, concept art, 3D modeling, rigging, lighting, and animation. Core requirements include Game 3D Production, Game Development, Game Engines, and Sketching for Communication. Students can also customize the degree to specialize in an area of interest like Environment Concept Art, 3D Character Modeling, Character Concept Art, Game Design, UI/UX Design, 3D Environment Modeling. Courses are designed for maximum flexibility to accommodate your schedule, and all course work will be self-paced, including full- and part-time enrollment plans. Graduates of the program have gone on to successful careers at Sony Computer Entertainment, Riot Games, Telltale Games, Cystal Dynamics, Zynga, Electronic Arts, and other top firms.
3) Liberty University


A leader in distance education since 1985, Liberty University is a private Christian school in Lynchburg, with 100,000 students enrolled in online classes today and 14,000 enrolled on campus. In total, Liberty offers 250 online programs (of 500 total), all designed for maximum flexibility to accommodate working professionals and adult learners. Further, several programs offer intensive, on-campus summer semesters to accelerate course work, and the university's generous transfer policy allows students to waive some requirements via previous academic credit, work/life experience, military service, MOOCs, examinations, and/or portfolio work. For a university of its size, Liberty's low student-to-faculty ratio promotes a tight-knit learning community. A third of all classes consist of less than 20 students and just 5% have 50.
Liberty offers an online bachelor's in IT with a concentration in Gaming Design. Core requirements cover Information Sciences & Systems, Object-Oriented Programming, Web Architecture & Development, Integrative Programming & Technologies, Database Management Systems, and Enterprise Systems & Integration, among others. The Game Design track includes classes in Introduction to Graphic Design, Digital Imaging, Introduction to 3D Graphics, Interactive Game Development, C# Programming, and an internship to integrate a hands-on component. With several entry dates available each year, the degree fits individual schedules. Up to 90 credits can be transferred into the program.
4) Baker College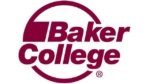 Founded in 1911, Baker College has thirteen campuses throughout Michigan – including Auburn Hills, Flint, Allen Park, Cadillac, and Port Huron – and one campus in Reading, Pennsylvania. The univeristy offers degrees ranging from associate to doctorate tracks, and all programs are designed for maximum flexibility to accommodate working professionals and adult learners, including 24/7 access to course materials. For students who want to combine on-campus and online courses, Baker offers hybrid delivery options; and to help online students are adapt to the unique features of distance education, all online students complete three weeks of orientation. Finally, the 16:1 student-to-faculty ratio supports intimate, one-on-one instruction in a vibrant, collaborative setting. Baker is accredited by The Higher Learning Commission and an Academic Quality Improvement Program (AQIP) participant.
Baker offers an online BS in Game Software Development, with core requirements in Database Fundamentals, Systems Development Methods, Visual BASIC, C++ Programming, Game Scripting, Game Console Design, Artificial Intelligence, Web Multi-Media, and 3-D Character Design, among others. A highly flexible program, courses deliver in synchronous blocks to simulate traditional the classroom experience, with the advantage of having everything else self-paced. Every student is matched with a personal academic advisor to develop curriculum goals and monitor progress. As a Baker graduate, you'll eligible for lifeline employment services, which include job search assistance, resume and cover letter workshopping, job postings, and more.
5) Full Sail University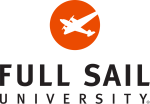 Full Sail University, founded in 1979, has an enrollment of about 19,400, offering nearly 80 certificate, associate, bachelor, and master programs. In order to meet industry demands across entertainment, media, art, and technology, Full Sail's degrees are immersive by design, with a school-wide focus on experiential, hands-on learning and skill development to put students in the best positions for employment upon graduation. Recently, Full Sail has expanded its online programs to create flexible, affordable, and tailored degrees, with many tracks offering accelerated to hyper-accelerated options. Further, the 23:1 student-to-faculty provides a sense of collaboration and community that promotes peer-to-peer workshopping. Full Sail is accredited by the Accrediting Commission of Career Schools and Colleges.
Full Sail offers a bachelor's in Game Art and Design, combining technical, creative, and storytelling emphases, with such diverse classes as Design and Development Analysis, World Building, Psychology of Play, Game Mechanics, Prototyping, and Historical Archetypes and Mythology. In addition to in-depth virtual classroom studies, the Full Sail curriculum incorporates several project and portfolio courses throughout the degree to ensure students have the opportunity to develop and hone their skill sets in real-world environments, taking into consideration user experience, immersion, and game economics. Better yet, online students can complete the bachelor's in as little as 2.5 years.
6) Rocky Mountain College of Art and Design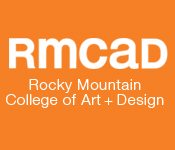 Rocky Mountain College of Art and Design, founded in 1963, has a student population just below 1,000, most of which are undergraduates. As a dedicated community of artists and creatives, Rocky Mountain places an emphasis on individualized instruction to develop and hone skills while also helping students build a project and portfolio base. The 5:1 student-to-faculty ratio guarantees personal attention, and the tight-knit artistic environment acts to push students and staff alike. RMCAD is accredited by the Higher Learning Commission and the National Association of Schools of Art and Design, and is a member of the North Central Association of Colleges and Schools (NCA). Admissions are rolling.
Rocky Mountain offers a BFA in Game Art that consists of 51 credits: among them, 3D Modeling, Character Rigging, Digital Sculpting, Game Animation, Introduction to Animated Storytelling, and Strategy and Psychology in Games. From there, students are able to customize the curriculum through elective options and must complete several thesis projects and portfolio reviews to demonstrate proficiency. With a major integration of more traditionally liberal arts subjects like storytelling and character development, the RMCAD BFA shirks the restrictions of a purely technical track, which might prioritize the how-to factor and exclude everything else. Instead, this program recognizes the multifaceted world of game design and development and provides a broad-based rigorous curriculum that's both nuanced and practical.
7) Savannah College of Art and Design


Founded in 1978, the Savannah College of Art and Design has a total enrollment of about 13,000, with campuses in Savannah, Atlanta, Hong Kong, and France. Ranked among the top art institutes in the South, SCAD began to develop its distance education program in 2003. Today, the college offers a range of affordable, flexible degrees, from associates to masters, through online delivery. With a 19:1 student-to-faculty ratio, SCAD is able to maintain a vibrant, collaborative creative community that combines personalized instruction with peer-to-peer workshopping. More than 70% of classes have less than 20 students and none have 50. Financial aid opportunities are availabe, as well: half of full-time undergrads receive some form of aid.
SCAD offers both a BA and BFA in Interactive Design and Game Development — programs that have been recognized by Princeton Review and Animation Career Review, and have twice won the top prize in the E3 College Game Competition. For the BA, core requirements include Programming, Game Art, Game Design, Interactive Design, and Digital Design Aesthetics. The BFA features several studio and project credits, plus customization capability through concentrations in Game Development, and Interactive Design and Physical Computing. Each degree includes built-in elective space. Students may also opt to round out the degree with a minor: these include Technical Direction, Storyboarding, Character Technical Direction, and more. Graduates of the program have gone on to careers at Epic Games, Firaxis Games, Frog Design, Autodesk Gameware, Google, and other top companies.
Tuition Per Credit: $1,456
8) University of Advancing Technology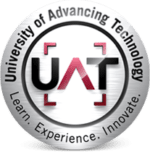 Founded in 1983, University of Advancing Technology has a total enrollment of about 1,000, most of which are undergraduate students. With associate, bachelor, and master tracks available, UAT creates course work that emphasizes sound theory and practical application; all students are required to complete internship credits to gain real-world experience. The 10:1 student-to-faculty ratio is another strength, with smaller classes promoting individualized instruction and one-on-one attention. The university is accredited by The Higher Learning Commission and a member of the North Central Association of Colleges and Schools.
As a recognized leader in the field, UAT offers a BA in Game Design that requires 36 major credits: Intro to Game Design, Intro to Game Development, Inro to Game Tools Critical Game Studies, Level Design, Industry Professional Development, and Writing for Interactive Games, among others. The curriculum also integrates workshops, production studios, and other hands-on courses to give students time to develop and hone their skill sets in a creative setting, with peer and professional critiques. UAT's online delivery is designed for maximum flexibility, and students can customize the degree to pursue specific areas of interest. For those interested, UAT also offers majors in Game Programming and Game Art and Animation, which students can add for dual or even triple degrees.
9) Franklin University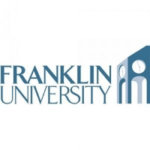 Franklin University, founded in 1902, has five campuses in Ohio and Indiana and specializes in adult education; the average student is in their mid-30s, and 9/10 transfer into a program using previously earned credits. Taking this into consideration, Franklin designs all programs for maximum flexibility and many include accelerated tracks. With a 13:1 student-to-faculty ratio, classes are intimate and support a vibrant creative atmosphere, featuring personalized instruction and peer and professional review opportunities. All students have access to career services, tech support, tutoring, student workshops, academic advising, enrollment assistance, and more. Prospective online students are encouraged to take a free demo course, and admissions are rolling.
Franklin offers an Interactive Media Design degree with 36 major credits, including Human Computer Interaction, Advanced Graphic Design, Digital Media Design, and interactive media courses for Training and Instruction, Entertainment, and Advertising. From there, students complete a practicum and capstone to get hands-on experience and a cumulative overview of materials. Though not exclusively a game design track, this BS has the advantage of a broad-based curriculum that avoids hyperspecialization and is widely applicable for Web Design, Graphic Design, Mobile Design, Project Management, Rich Media, and other fields. Further, classes are flexible, with 6-, 12-, and 15-week block options, and Franklin's generous transfer policy allows students with previous academic course work to skip up to 94 redundant credits.
10) Art Institute of Pittsburgh


Established in 1921, Art Institute of Pittsburgh is a career-focused creative education center with on-campus and online tracks at associate's, bachelor's, and certificate levels. In recent years, AIP has siginificant expanded its online offerings to meet the rising demand for flexible, affordable, and customizable degrees in the creative field. Most important, with a 9:1 student-to-faculty ratio in online classes, students are guaranteed one-on-one instruction and critique, creating a vibrant creative community with real-time feedback. The institute is accredited by the Middle States Commission on Higher Education.
AIP's BS in Game Art & Design includes studies in a variety of areas: Digital Imaging, Drawing & Anatomy, 2D Animation, 3D Modeling, 3D Animation, Digital Storytelling, Texture Mapping, Game Modeling, Game Production Pipeline, and Character and Object Design, among others. Because of the broad-based curriculum, students benefit from a combination of technical expertise and general storytelling skills, each of which are essential in the professional gaming industry. Students will also cover oft-overlooked (or undervalued) areas, like usability, user experience, and game economics. Classes are designed for convenience and flexibility, with course material available 24/7. Student services include online tutoring, tech support, career services, academic counseling, and library access to over 350 databases.